Little M pushed his sister over yet again. We're really trying to get this under control with him and, at the same time, also chastise Bright Eyes when she tries to push Little M away.
At this very moment, Little M is sitting in the Naughty Chair until he says "I'm sorry" to either me or his sister. He gave me a hug but he won't say he's sorry. I know he can do it and I know he understands what it means.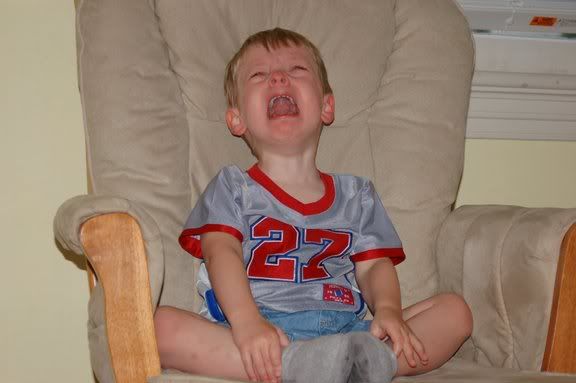 So we sit.
Him in the glider and me on the sofa. My mother has always said that I'm stubborn but I never realized just how stubborn I could be until I was pitted against my son. Every so often, he tests my by slowly sliding to the edge of the chair but not entirely off it or he'll ask to get down and when I tell him "Not until you say I'm Sorry" he starts screaming and wailing as if his toes were on fire.
Update: After about 20 minutes of sitting in the Naughty Chair, Little M finally said "I sorry Momma" and was allowed down. Thankfully, he didn't scream the entire time. That would have just broken my heart.